Oats, smoked bacon, pork fat, fresh red onion, cumin and spices come together in this flavoursome and highly popular white pudding. Many of our national stockists take our white pudding including the prestigious Fortnum and Mason in Piccadilly and the famous Gloucester Services (and Tebay).

Fruit Pig's white pudding is like no white pudding out there. Cut slices in half and place next to half slices of our black pudding and hey presto! Yin-yang (ish) breakfast. One customers spreads our freshly cooked white pudding on toast! Oh, and don't forget, our white pudding is gluten free as we only use certified gluten free oats.
To cook: Remove outer skin, grill or fry both sides to 'crozzle' making sure the inside is piping hot. It freezes beautifully too.
Allergens: Nil





White pudding is a revelation
Didn't know white pudding was a thing until we tried in the selection pack. It's really very, very good.
The Mawsons





Mighty White
Like every Fruit Pig product that I've sampled, this is exceptional; no ordinary white pudding this. In every sense this is a magisterial pudding - full of flavour and a wonderful texture.
GB





The wee beastie
Despite my Scottish heritage I am only fairly new to the joys of a white dag. I started out with Howie's of Auchterarder white pud - it was good, but after having found Fruitpig's black on a trip to Norfolk I took a chance on three full chubbs of white from Matt and Grant. And I was very pleasantly surprised when I sliced open that first one - I like the herbiness and the gentle spiced flavas, and the fat that sits in the end of the chubb is just waiting to spread its unctuousness across my lips. Cooked to a nice brown crisp on each side for texture and served with a fried egg - happy days. But then I got a little snackish one day and partook of a slice of cold (it has been cooked through already, there is no requirement to cook a white dag or a black dag once in your own kitchen). A little slather of one of my homemade ketchups - ahhh, it's what dreams are made of.
Andrew B





White Pudding
Love this, reminds of Scottish 'mealie pudding' Great flavour and texture, not like a lot of liquidy shop bought white puddings which are pretty tasteless. Just ordered some more!
Andrew T
Please leave a review!
Please fill in all fields
Thank you
Certified Gluten Free oats (31%), pork fat (25%), dry-cured bacon (preservative E250) (25%), onions, water, salt, spices.
Our ingredient salt contains E535 anti-caking agent.
Nutrition
Typical values per 55g serving:
Energy - 900kJ, 215kcal
Fat - 17g
of which saturates - 5.7g
Cabohydrate - 12g
of which sugars - 0.5g
Protein - 4.5g
Salt - 0.44g
Allergens: Nil
28 days in the fridge or 6 months wrapped in the freezer.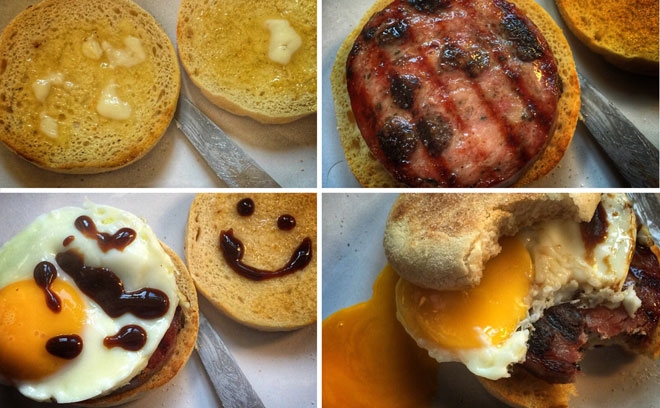 Full English Fast!
View recipe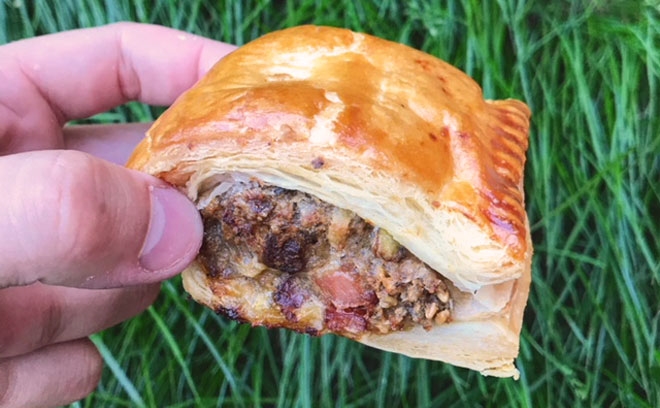 White Pudding and Granny Smith Apple Sausage Roll
View recipe
Courier Delivery
We deliver UK-wide using APC Overnight. Our standard delivery is next-day 0800-1200. Our stated pricing is for mainland deliveries and Southern Scotland only. Deliveries to outer islands and remote areas in Scotland costs between £20 - £25; the delivery charge and delivery timescale will be highlighted to you before you commit to purchase.
Tracking notifications will be sent to your email address and mobile number (if supplied during ordering). Do check your spam filter if nothing arrives in your 'inbox'.
We are a small company and strive to give all of our customers the very best bespoke service. On occasion, we can have limited stock and can't guarantee to fulfill orders placed at short notice (but it's always worth calling to check).
Generally, Thursday to Saturday delivery charges are as follows:

Orders up to £19.99 are £9.99
Orders £20.00-£69.99 are £5
Orders over £70 free
Payment
Please pay by MasterCard, Visa, Solo, American Express and your PayPal account. We also accept BACS payments. No cheques please.
Our Commitment
Our couriers endeavour to get your parcel to you on time. However, occasionally unforeseen circumstances mean that this is not possible. Should your parcel not arrive within this timescale, do track your parcel through APC's website. If there are any issues please let us know immediately. If for any reason our products do not reach you in an acceptable condition, please notify us immediately so that we can sort it.
We do not store credit card details nor do we share customer details with any third party.
For further information, please call us on 01945 439455 or send an email
Fruit Pig Company Limited: 6 Anglia Way, Wisbech, Cambridgeshire PE13 2TY. What3Words: nuzzling.caps.taps
Company Registration: 07220239
VAT No: 987 5380 60
SALSA approved and EORI registered